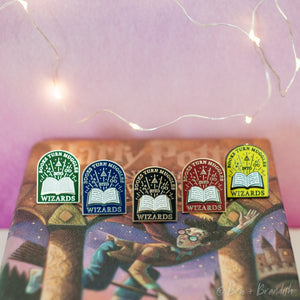 THIS LISTING IS FOR A FULL 5-PIN SET OF ALL THE COLORED VARIANTS.
With this listing you get the Books Turn Muggles into Wizards pin in the following colorways:
- red and gold Gryffindor
- green and silver Slytherin
- blue and silver Ravenclaw
- yellow and black Hufflepuff
- black and gold Hogwarts
Books turn muggles into wizards :)
These beautiful hand-crafted hard enamel pins feature various hard enamel colors and platings, polished to a high finish.
These pins are 1.5 inches tall and come with 2 black rubber clutches to keep each pin in place. Each pin comes attached to an elegant, collectible matte backing card specifically designed for this pin series and is shipped in a cellophane sleeve within a bubble mailer.
Show your love for the written word with this magical HP-inspired enamel pin set!
This pin is also available individually and as part of a set of 6 bookish pins.